1:1 Presentation Coaching by Ideas on Stage
Agency Local Member price: £1,347 (save £150)
Get your 10% discount code from the Agency Local Members Portal
Prices shown are exclusive of VAT
Most presentations suck and this is a huge problem.
Think of it in pure business terms:
If meeting participants remember nothing, the return on that investment is minimal.
If your sales pitch fails to make customers want to buy from you, your revenues will suffer.
If your leadership presentation fails to inspire your employees, they won't be motivated to deliver on your strategy.Do you struggle with any of this? We can fix that!
How we can help you
Most business leaders struggle to present their ideas effectively, so at Ideas on Stage we've created a coaching program that helps leaders present a compelling message. When you present a compelling message, your audience takes action and your business grows. 
We understand how hard it is to achieve your goal when presenting. Like you, we are frustrated when we see great ideas getting lost simply because of the way they are communicated. We would love to help you find a solution. 
Who is it for?
It is designed specifically for Agency owners, entrepreneurs, business owners, CEOs, Managing Directors and senior professionals who want to use presentations to grow their business, increase their influence, and make an impact. 
What's included
The programme includes up to 5 one-on-one coaching sessions covering the entire presentation process:
Crafting a compelling message that helps you achieve your goal when presenting

Developing a clear and engaging storyline that moves your audience to take action

Delivering your presentation with comfort and confidence
In addition to the 1:1 coaching sessions, the programme includes the following:  
Assignment after each session so you can put your new skills into practice.

Complimentary access to our top-selling online course

"Create and Design Memorable Presentations"

(26 video lessons, 2+ hours of content).  

A workbook with tools and templates that will guide you during the programme. 

Access to our private community Facebook Group, where you can get ideas, support and accountability 

1:1 Discovery Session with Andrea Pacini where we can develop an action plan for you and discuss how we can help you with the implementation. 
Where does it happen?
We deliver each coaching session live on Zoom.  
When does it start?
We will arrange the dates together and we only have 5 spots available per month. This is to allow us to work 1:1 with you which will massively boost your success rate. 
How much time will it take?
Each session is 1.5 hour. We also recommend spending one hour after each session to work on the assignments.
How long is the programme?
5 sessions = 10 weeks (one session every second week) or 5 weeks (one session per week).
If you have an urgent deadline, please let us know and we can prepare a customised plan. 
What Our Clients Say 
"We recently presented to a potential client using Andrea's advice and it went brilliantly, resulting in a new piece of work for us. This really was the best training." – Caroline Boston, MD at New Minds
"Hiring Andrea was one of the bets decisions I've ever made. People were engaged throughout my TEDx talk and I even received a standing ovation! I wouldn't have been able to do it like that by myself." – Margaret Rose, Co-Founder at Future Law and U-Solve Impact Accelerator 
"This was one of the best programmes we've ever attended! It was magic" – Gabriel De Dominicis, Founder and CTO at Forcive
Andrea Pacini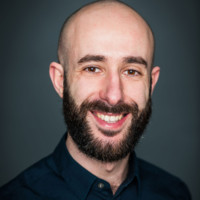 Andrea is a presentation coach and founder of Ideas on Stage UK. In the last 11 years, Ideas on Stage has worked with thousands of clients, including Microsoft, Lacoste, The World Bank and over 500 TEDx speakers. They specialise in working with established service-based business owners who want to grow their business and increase their influence through great presenting. Andrea is on a mission to change the way people think about presenting and his vision is to help 1,000 purpose-driven entrepreneurs by 2030 share their message, make an impact and be memorable.
LinkedIn: https://www.linkedin.com/in/apacini/
Contact andrea.pacini@ideasonstage.com and discuss your requirements. 
Additional information
Member Offer

Agency Local members will enjoy 10% discount from the listed price.

Agency Local Member price: £1,347 (save £150)
Get your 10% discount code from the Agency Local Members Portal
Prices shown are exclusive of VAT

Ordering info

To express your interest in a complimentary discovery call by contacting andrea.pacini@ideasonstage.com.

Use the discount code (found in the member portal) in your email to Andrea to receive your discount (should you be selected as a client).