UPCOMING EVENTS FROM
AGENCY LOCAL

& THE COMMUNITY
FUTURE AGENCY LOCAL EVENTS AT A GLANCE
FUTURE AGENCY EVENTS
AT A GLANCE
Friday 8th December 2:00-3:00pm,
Friday 5th January, 2:00-3:00pm,
Agency Local Huddle
OPEN TO ANY AGENCY OR FREELANCER
Online Event
Your chance to meet the Agency Local community, wind down for the weekend, share your stresses, your conundrums and your wins from this week! 
We introduced Agency Local huddles last year as an agenda-free way for business owners to come together and just chat. So clear your schedule for just an hour, pull up a chair, bring a coffee and join the conversation with like minded agency folk!
Please come along and why not bring a friend?
Free Networking Event for all Members and Non members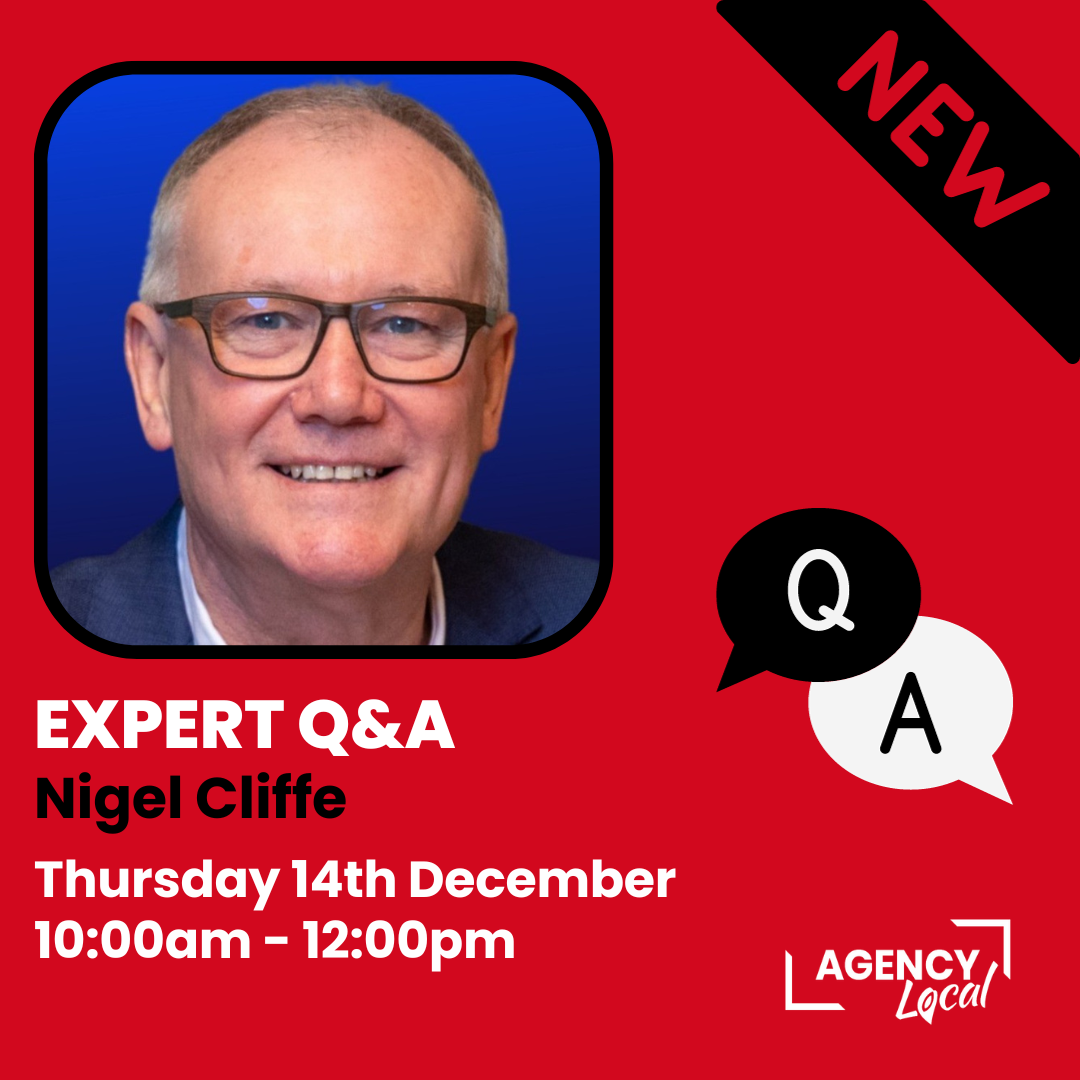 Thursday 14th December, 10:00-12:00 Slack
Nigel Cliffe – Expert Q&A
We're thrilled to continue our new Expert Q&A sessions! This is an excellent opportunity to ask questions and receive advice from our partners and guides.
The sessions will take place via Slack in the Expert Help channel.
For Decembers Q&A session, Nigel will be available on Thursday 14th December between 10 and 12 pm to answer your questions on all things LinkedIn.
Have your questions at the ready!
No registration required – show up with your questions when you can. 
Thurs 25th January, 09:30-11:00am, online
90 Day Planning Workshop
(Free event)
Planning is central to growing and developing your business. It is a framework for continual improvement.
December 14th at 6:30 pm
Agency Local Christmas Social! 
We know how important it is to have some down time and to socialise – especially at Christmas, so what better opportunity than spending a relaxed evening with fellow industry professionals.
We are not having a full blown out party, rather the opportunity to enjoy a festive drink with some like minded people. A chance to relax and join in some festive cheer.
After the year we have all had we think this is important!
We would love for you to join us. Why not bring a friend – the more the merrier!
Christmas attire is optional and we look forward to seeing you there!
First drink on us and some pizza will be served later.
23rd February at 10:00 am
Agency Local Netwalking Event
Our Netwalking Event is back!
Netwalking is the perfect combination of networking and walking in an informal, relaxed setting. Not only is it a great way to meet new people and make connections, but research also shows that walks in nature can reduce stress, lower blood pressure, and improve your overall physical and mental well-being.
As a group of dog lovers, we also encourage you to bring your dogs with you!
We believe that exploring new places and enjoying the beauty of nature is a great way to rejuvenate and recharge, and perhaps make meaningful connections, too!
This Netwalking event will take place in various locations around the UK, and is completely free to attend so please RSVP with which location you would like to join us on.
We look forward to seeing you there!
Do you run your own Agency focused events?
We spotlight agency events – if you are running an event for marketing agency owners and their teams we need to know about it! 
Please provide the information and links and we will add it to our list.
Better Leaders - Better Businesses - Better Results
Agency Local: Supporting agencies and their owners